Acupuncture & Acupressure Clinic in Bangalore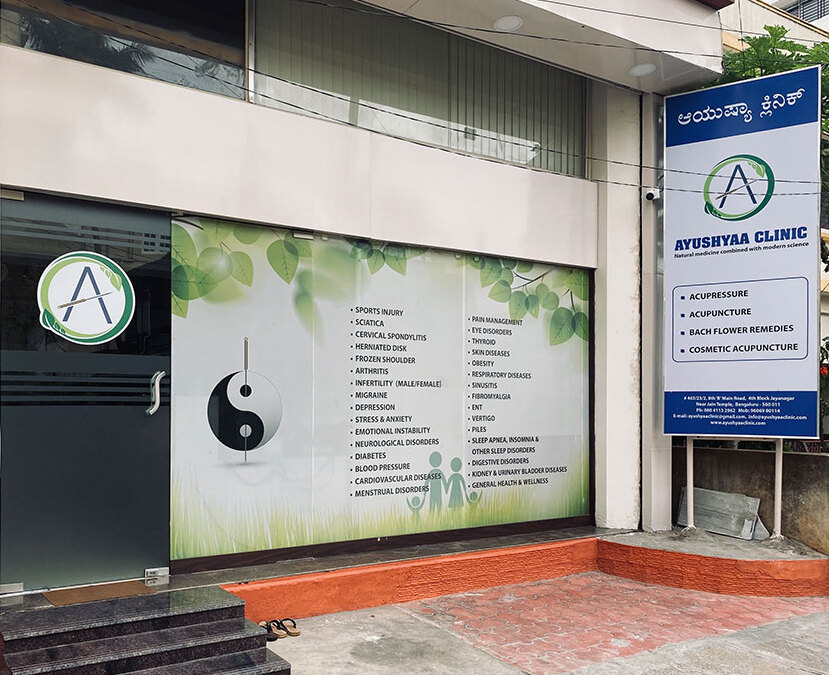 About Ayushyaa Clinic
Ayushyaa Clinic is a holistic & alternative medicine clinic that has extensive experience in treating patients diagnosed with various health issues. We provide effective and quick treatment to patients undergoing physical and mental illnesses in the most natural way possible instead of relying upon strong medication.
At Ayushyaa Clinic, we provide top-notch services at an affordable cost and we make sure that our clients are happily satisfied with their treatments. We are highly dedicated towards our profession which makes us stand out in the field of alternative medicine.
Read More
Make an Appointment
Office Hours : 07:30 and 19:00 Mon to Sat, Sun - Holiday
Healthy People, Healthy Society Through… Ayushyaa Clinic
Acupuncture is an art, which was found from ancient time in India, China, Japan and Sri Lanka. Then it was developed further in China. Now it is proved as science and it is commonly accepted as a mode of treatment in western countries.
The World Health Organization (WHO) has approved Acupuncture as the mode of treatment. WHO also studied the effects of acupuncture and concluded the list of disorders, which can be treated with Acupuncture.
What Our Clients Say About Us
Wholeheartedly rate 5/5. Me, my wife and her sister have been to Drs Praveen & Pooja for many issues (Knee surgery avoidance, Pregnancy, misc ones like back pain /headache /PCOD). Provided you strictly follow their protocol, you'll see the results.
MAGICAL! That's the one word for my experience with Ayushya Clinic. The improvement in a week has been phenomenal and I can't thank Dr Praveen enough. This place has really worked wonders for me Gods bless & wish everyone gets relief.
A very heartfelt thanks to Dr.Pravin and Dr.Pooja for their dedication and sincere approach towards their patients. The treatment was a huge mental relief to the entire family. A huge gratitude to the team of Ayushyaa clinic that is beyond words.
Acupuncture used to cure stroke
Acupuncture used to cure stroke
Acupuncture used to cure stroke